What sets a good janitorial company apart from a great one? Attention to details. Except, I'm not talking about the cobwebs in the corners (although that is very important too!) — I'm talking about going the extra mile and following through.
Years ago, we had a couple who had absolutely no experience in the janitorial industry. After proper training, Lori and Johnny quickly became very good at their work. When their facilities were inspected, they rarely had problems. And the office never received complaints on any of their accounts.
One day, our operations manager came back to the office and reported that the hard floors in one of Lori and Johnny's accounts needed some work. I went out to visit with one of the owners of the building. I asked her about the cleaning and she said everything was fine. But what she shared next told me why — even when the cleaning wasn't always perfect — Lori and Johnny's customers were so loyal: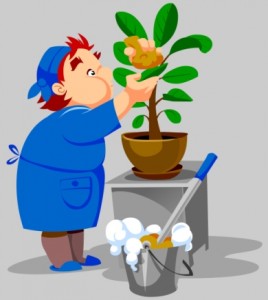 This was a law firm with expensive hardwood floors in the lobby. Lori had noticed that one of the potted plants was repeatedly leaking water onto the floor, something that could have damaged the wood long-term. She mentioned it to the owner but nothing was done. So, Lori picked up an inexpensive pot liner and put it under the plant. This took care of the problem. About a week later the owner noticed the liner, but no one could figure out who took care of the problem. Finally, someone thought to ask Lori. Needless, to say, the customer was impressed.
Without being asked, Lori had taken the initiative to find a solution for their customer. Now I knew why their accounts were so loyal and appreciative: Lori and Johnny understood that going the extra mile can make all the difference between good service… and GREAT service!
ImageOne Janitorial Services, Inc. provides commercial cleaning to businesses across the Greater Orlando / Central Florida area.